'FEED ME, SEYMOUR'
In April, May and June we get really hungry while we are working in the greenhouse and none of us have much time to cook or bake. We're willing to trade food for flowers, though.
Sabrinajoy or Linzy will gladly issue you $10 in Dancing Dollars for one of the following: a tasty homemade lunch as long as it doesn't contain melon, cilantro, beans or nuts, a pie, 3 dozen cookies, or a coffee cake. We have a small fridge and a microwave so we can keep things cold or warm them up. We are not vegetarians.
Want to help feed your favorite greenhouse owner and her busy helpers? It's easy, just call us at 863-3530 and sign up with us… we will enter your name in the schedule. We can't tell you how much joy this brings us even though we have to go through withdrawal in July.
Below you see three happy Just Dancing Gardens & Greenhouse customers about to receive their Dancing Dollars.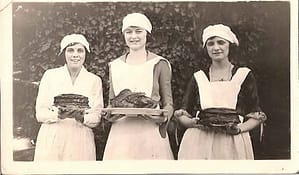 Please remember to return for your dishes. They miss you and want to go home.
Our thanks to Chris at Baker's Acres Greenhouse in Alexandria, Ohio for giving us permission to 'steal' this idea from him.