When you have gardens, the perennials and shrubs form the backbone of the garden, and the annuals provide that "wow" pop of color and interest throughout the entire growing season. Container gardens are like living sculptures– you have that same color and interest that you get from in-the-ground plantings, but they're moveable, and can be a variety of heights and sizes, for maximum effect.
We specialize in those annuals that bring that "pop" factor to your gardens and containers. It's like putting on a necklace and earrings to complete the perfect dress for your night on the town.
We have an eclectic selection of unusual flowering annuals, foliage plants, and herbs to elevate your gardens and containers to new heights– from nice to extraordinary! Our selection of annuals "wow" you with their variety and colors. Our herbs bring fragrance, delicate texture, and function.
Our ready-to-go hanging baskets and container gardens are perfect gifts for yourself or the plant lover in your life. Come to the greenhouse to see the ever-changing selection!
Sabrina is a poet with flowers. Many of our neighbors comment on the baskets she does for us each year. We are so fortunate to have her. ~Roberta  & Ted Parisi
If your passion is growing tomatoes and other vegetables, we're tomato crazy! We offer many varieties of tomato starts, and a select array of other veggies, including peppers, eggplant and greens. Many of our tomatoes are heirloom or open pollinated varieties, but we have something for everyone– from cherry tomatoes and varieties that work well in containers, to big, juicy beefsteak types. Visit Just Dancing Gardens & Greenhouse for your tomato starts this year. You'll be glad you did.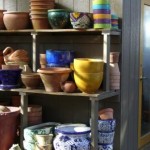 We have a small but diverse pottery selection, as well as an ever-changing array of baskets and found goods for your planting pleasure. Potting soil, fertilizer, and a selection of other supplies complete your gardening projects.
Cocoa Mulch available while supplies last!