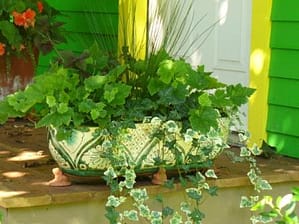 Designing and planting a Custom Container garden is like creating a painting with plants. We enjoy working with our customers to provide, beautiful, lush, original creations to excite and please. We are happy to work with you to create custom container gardens for your home, your business, or for special events, such as weddings and parties.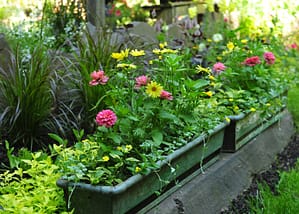 Let's get together to discuss your dreams for your outdoor rooms or that special event coming up.
 Call us at 802-863-3530 to schedule your private consult either at the greenhouse or your location.
For the past 10 years Sabrina, her plants, and her creativity have made our home a flowering masterpiece. Every night I return from work and find a bit of solace by sitting amid our more than 20 pots of blooms. Simply, they brighten our lives and renew our spirits. I can't imagine a season without them and we are already eagerly awaiting spring.   ~Leslie H.
The bowls are gorgeous! You continue to amaze me. Have had several people ask about them and I have sent them your way. ~Michelle H., Patina